Close isn't good enough when it comes to prosthetics. We want it to be great for you and we are committed to doing everything that we can to make your prosthetic experience successful!
Working together we want to make sure we develop something for you that is comfortable and lets you do what you want to do. You'll be amazed at what's possible. We'll figure out what your goals are and then I can go to work to get you there.
Here's what we think a good prosthetist needs to do for you:
Have the latest knowledge and proven experience to be able to reach into our "toolbox" of possibilities and make suggestions for you that will help you realize your goals.

Be able to quickly design, fabricate and fit the prosthesis for you so that it is comfortable and works great.

Create a prosthesis that you can trust.

Help with educating you and your family about your new prosthesis so that you can enjoy using the prosthesis and really integrate it into your daily life.

When we try something, listen to your feedback on what works and improve your prosthesis until it feels just right for you.

Be around to help with adjustments as you or your goals change.

Help you navigate the challenging world of insurance and so you can get what you need but keep it affordable..
...it all comes down to listening and understanding you.
Your artificial leg or arm is a combination of 2 things:
The socket that is custom made for you and that should fit your limb comfortably.

And then everything else--all of the components that are attached to it like feet and knees (or hands and wrists) that make it functional .
Sockets:
The socket can be designed many different ways and like most things in life there are pros and cons to all the different approaches. That's where your prosthetist comes in--I can offer suggestions and explanations and help match up the best choice for your needs and body type. We try things together and find what works best. We make sure it's comfortable and secure, and reliable.
Then as time goes by, your limb will probably change and your needs and abilities may change as well so we'll make adjustments to keep you comfortable. At some point we may decide to make an entirely new socket for you when we can no longer adjust the current one to keep up with the changes. This is completely normal and totally expected.. We may discuss alternative designs for you at this point as well if they'll be more suitable as your strength and abilities have improved.
We will be careful to document exactly how you change physically (to the hundredth of an inch!) using computer modeling. Together we will track how your abilities and goals have changed so that we know when a new treatment plan is needed. This detailed documentation is what is used to communicate with your insurance company.
Components:
The components are mechanical versions of things such as hands, feet, ankles and knees that simulate human function. Like everything else, there are hundreds of choices and based on the design and materials used. Different products are better at some things than others. If you've ever seen the big curving feet Paralympic runners use (cheetah springs), these are an example of feet that are specialized specifically for running using lightweight carbon but they would feel very unstable for just walking around.
To further complicate the issue, the fancier things are, the more they tend to cost. Your insurance company will want us to demonstrate that you'll have the ability to use any given component. But on the plus side, the more sophisticated the component is, the better a job it does at simulating human function. We'll work together to make sure we get the best possible components for you.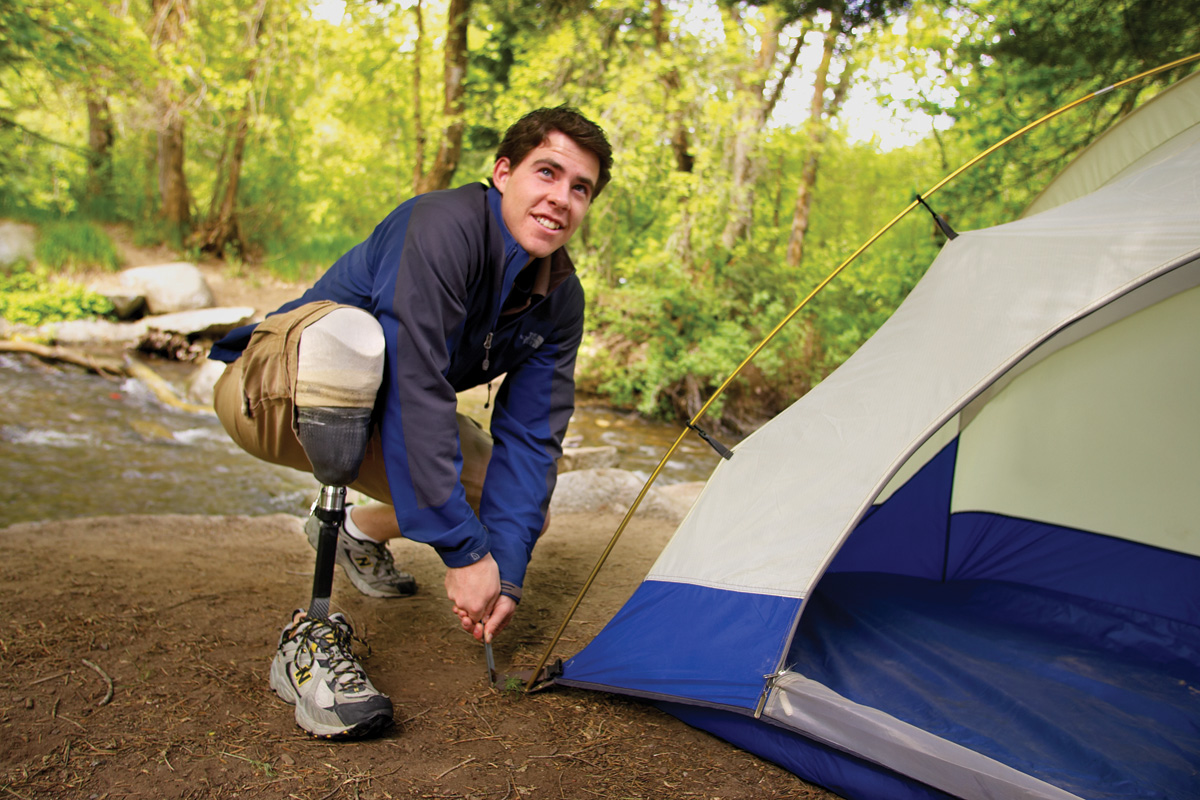 Putting it all together:
New things are being developed all the time, here are a few of the highlights:
Computers are being added to all sorts of things like mechanical knees and ankles so that they are more and more lifelike in the way they work.

New materials, processes and techniques are being developed all the time making things lighter and stronger and more functional.

Artificial limbs are becoming increasingly safer for the people that use them because they can respond more and more quickly to things like a stumble.

Upper extremity prostheses are being controlled by just thinking about what you want to do!
All of these advances and techniques are a huge help in designing artificial limbs that really help people get back to what they want to do and we are experienced with all of the leading, microprocessor (computer controlled) technologies. We are certified to deliver many technologies such as (but not limited to):
Remember though, the most important part of any prosthesis is how well it is designed and fitted to you.
There are literally hundreds of prosthetic feet, dozens of knees and ankles and a whole host of techniques but what matters most in our opinion is whether the prosthesis is right for you. How often do you see people with wildly expensive artificial legs but still using a cane or a wheelchair. Are there better solutions for these people? We are always asking if this is the best possible prosthesis for this particular person..
Here's what it boils down to:
There are the 3 key questions that you want to be able to say "yes" to:
Is it comfortable for you?

Does it allow you to do what you want to do?

Do you feel like your prosthetist is listening to you?
Some great resources about what to expect: